Learn More About the Pendragon Climate Impact Portfolio
The Climate Impact strategy seeks to find ways where investors can make a positive impact on the planet through investing in the new advances and technologies associated with renewable energy, energy production, distribution and transmission, and environmental science.
Fill out the form below for more information. We also invite you to scroll down through this page.
…human exploitation of the planet is reaching a critical limit. But human demands and expectations are ever-increasing. We cannot continue to pollute the atmosphere, poison the ocean, and exhaust the land. There isn't any more available."

Stephen Hawking
>> Read How to Commit Financially to Sustainability
Who should consider investing in the Climate Impact Portfolio?
The Pendragon Climate Impact portfolio is a separately managed brokerage account with investments in companies that make products or provide services that reduce carbon emissions and improve the planet's environment.
Investors who want to make a positive impact on the planet and the environment by allocating a portion of their investable assets to companies that are using cutting-edge technologies that reduce greenhouse gas emissions.
Due to the new technologies and the developing renewable landscape, investors should view the portfolio as a long-term investment strategy.
Who manages the account?
Pendragon Capital Management Inc. is the investment advisor for the Climate Impact Portfolio strategy.
Two of its managers, Andrew Fairbanks and Ian Green, are the co-managers of the account. Combined the two have over 60 years of investment analysis and portfolio management experience.
• Andrew's career in investments focused on the energy industry with equity research positions at Merrill Lynch and analyst/portfolio management roles at several energy hedge funds.
• Ian Green has been a Registered Investment Advisor since 1997 acting as a general investment manager with a value-oriented approach to investing.
Pendragon Capital Management, Inc. will have discretionary authority over buying and selling securities for the account.
In what types of companies will the managers invest?
The managers will invest in US and non-US companies that:
• Manufacture renewable energy products like windmills and solar panels
• Service and upgrade the grid and power transmission infrastructure
• Improve the energy efficiency of existing products like hot water heaters and HVAC units
• Build and manage renewable infrastructure like wind and solar farms
• Own utilities that are transitioning from fossil fuel usage to renewable energy
• Manufacture electric and hybrid automobiles and components
• Mine, process minerals, reduce bio-fuels and make batteries and other materials, and other alternative fuel technologies
• Clean up the environment, recycle, and/or turn waste into energy
The Pendragon Capital Management managers think differently about portfolio composition. Rather than make use of relative index weights, we allocate according to the sources of greenhouse emissions, creating a true energy transition portfolio.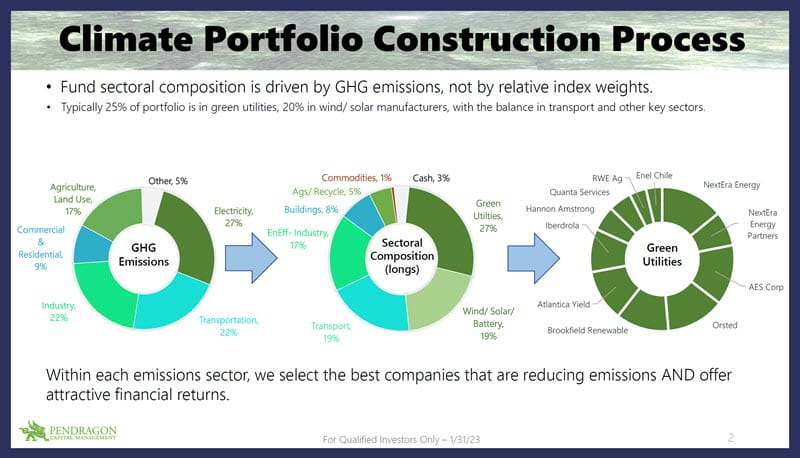 The managers will use the following:
The investments will emphasize publicly traded securities like common stock, preferred stock, master limited partnerships, and bonds. The managers can use derivatives like options to hedge, enhance income, and/or speculate.
The portfolio will also seek to "short" the securities of companies whose business models are threatened by advances in renewable technology. Such companies are coal and fossil fuel corporations as well as businesses in the alternative energy space where their technology is obsolete or in the process of being "leap-frogged".
Download the Green Investing Information Kit
We're thrilled that you'd like to learn more about Pendragon Capital Management's approach to green investing and the Climate Impact Portfolio more specifically.
What you do makes a difference, and you have to decide what kind of difference you want to make."

Dr. Jane Goodall
What are the fees associated with the Climate Impact Portfolio?
Pendragon Capital Management, Inc. charges a 1.5% annual management fee, paid quarterly based on the quarter-ending account value. In addition, the investor will pay other fees such as trade commissions and other ancillary brokerage or clearing firm charges.
What are the risks associated with investing in Climate Strategy?
All investing involves risk. Investors can lose all or part of their principal, and the overall market is volatile.
While the strategy invests in predominantly established companies, the alternative energy space involves new technology and new markets. Some companies are new. Government regulation and subsidies greatly influence the alternative energy space. Government policy can change and have a dramatic impact on business models. Many of the leading companies in alternative energy are non-US firms. As such, other risks such as currency exchange rates, are present.
Can the Climate Impact Portfolio be held in a retirement account?
Yes, the Climate Impact Portfolio strategy can be tailored to meet the requirements of a traditional or Roth IRA or a self-directed 401K plan.
Is there a minimum investment to open the Climate Impact Portfolio Account?
Yes, the minimum investment for the Climate Impact Portfolio is $150,000.
For investors with less to invest, Pendragon Capital would refer you to its affiliate, BrokerageSelect (www.brokerageselect.com) for an investment strategy using mutual funds.
What are the applicable safeguards?
While there is no protection against market losses, the Climate Impact Portfolio exists in a brokerage account at a FINRA SIPC member securities broker-dealer.
The broker-dealer employs a third-party clearing firm to hold all client assets and send trade confirmations and monthly statements to clients. Please see SIPC protections on the SIPC website (www.sipc.org).
In addition, our clearing firm, Wedbush Securities, Inc. provides private insurance up to $25 million per customer to protect against fraud or bankruptcy.
How do I open a Climate Impact Portfolio account?
Please contact Ian Green at 917-837-2287 or ian@pendragon-capital.com to obtain the appropriate new account forms. For more information, complete the Pendragon Capital contact us form.